Zera
®
Food Recycler: How It Works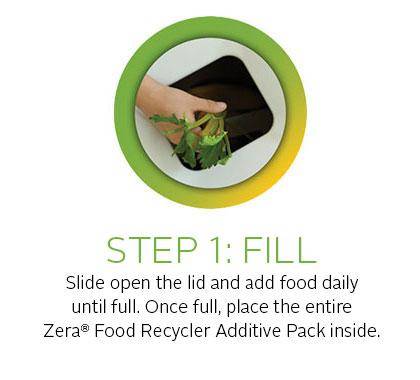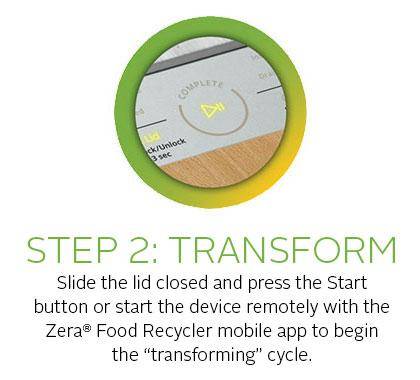 Responsibility, Meet Convenience
Why You'll Love Zera
®
Food Recycler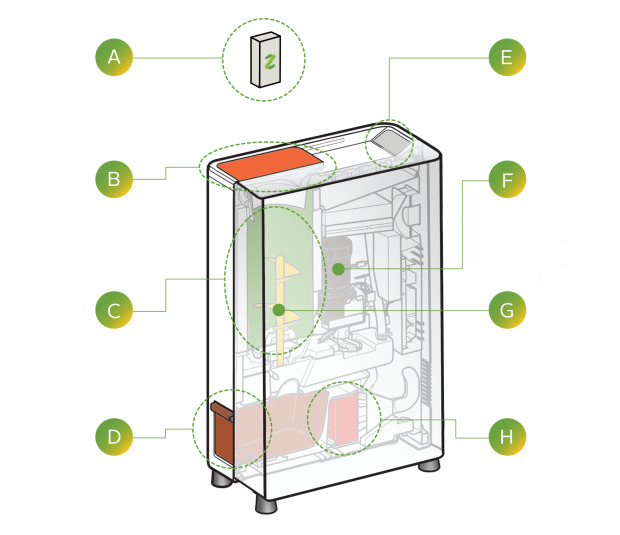 Technical Specs
A – Zera

®

Food Recycler Additive
Made from coir, a plant-based resource, and baking soda - works to break down food waste
(Available for purchase separately)

B – Sliding Lid


Seals off mixing bin when not adding food

C – Mixing Bin


Holds a week's worth of food scraps (for an average family)*

D – Output Bin


Convenient and removable bin contains ready-to-use, homemade fertilizer

E – Control Panel


Start, stop, pause, and get notified to run the device after 7 days

F – Mixing Motor


Turns mixing blade to process food waste

G – Mixing Blade


Along with heat and the Zera™ Additive, blades churn and break down food scraps
H – Zera

®

Food Recycler Filter
HEPA/carbon filter designed to continuously filter air



Size:

11"W x 22"D x 33.75"H


Weight:

118.6 pounds (53.8 kilograms)


Useable volume:

8.4 liters


Color:

White


*Based on estimated 7.7 lb household food waste for average U.S. family.
Additive required and sold separately. May emit odors during cycle.
Stay in the Know
Sign up to be a Zera
®
Food Recycler Brand Insider and be the first to learn about special offers, tips and more.     
®/™ © 2021 WLabs. All rights reserved.